Specialists in the design, consulting and manufacture of leadlight and stained glass including repairs and restoration.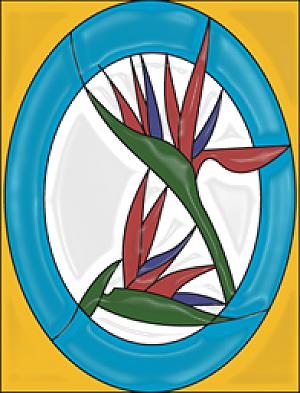 Clive Hillier's understanding of period architecture assists him in the design, manufacture, restoration and repair of beautiful stained glass and leadlight. Leaded glass can add or restore that special touch to your home or restore the integrity of older homes and heritage buildings.
Contemporary designs can also be a welcome addition to more modern buildings bringing dull spaces to life or obscuring unwanted views.
Clive has a large collection of traditional and modern designs which will complement many styles of architecture. Homes and other buildings can achieve their full potential through the use of stained glass which will add warmth and colour and create a wonderful sense of ambiance. Windows can be built to incorporate your architect's, or your own ideas, if you are unsure about which design or colour is appropriate, suitable options can be suggested.
Apart from leadlight and stained glass windows Clive repairs and restores Tiffany style lamps. Custom built mirrors are also available.
Fused glass commissions are also undertaken. Pieces can be custom made to suit your requirements. The commission can be a piece of decorative art, corporate display, functional platter or colourful jewellery using the latest dichroic glasses.